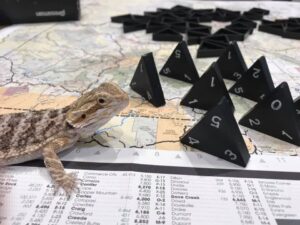 If you've seen National Treasure you'll get the reference. If not then I don't even feel badly about spoiling it for you because you should have seen it by now. It's a treasure hunt and every clue leads to "another clue" to the point that the real mystery is whether the clues lead to anything or not.
If you've ever started a small business, you feel that pain acutely.
I certainly do. As I type this I'm watching a little spinning circle on my other screen while on a tech support chat.
Why? Because I had an idea for adding a page on my website where users could answer a couple of questions and then determine what level of sales they need to generate their desired salary.
Cool right?
This is what I have so far if you want to see how it's going: https://blackberryacct.com/goals/
Keep in mind that this is a DIY website so I can add a new page and throw boxes of text and the like on it. Nothing fancy really but it does what I need it to do.
 UNTIL I wanted to put what amounts to a super simple excel calculation on the page:
Clue 1: download and install yet another plugin to do calculated forms
Clue 2: activate and figure out how to use plugin
Clue 3: start chat with tech support to see why previewing the form makes the entire dashboard stop responding
Clue 4: open a link with a lot of configuration instructions to wade through to fix the problem
You can see if I persevered or bailed on what will no doubt be ANOTHER CLUE by checking out the link.
If you own a small business, you no doubt ran into similar experiences. You can't get a bank account without paperwork from the Secretary of State which you need an EIN to get to and don't forget the Sales and Use Tax.
There is information out there, it's the internet there is ALL SORTS of information out there. Click a couple of links and either get a word salad of legalese or someone trying to sell you a solution.
You feel nickel and dimed to death and still don't really know what you don't know.
When I started my firm and got my first paying client, I discovered that I had no idea how to actually get paid, actually moving funds from my client to my account.
Learn From My Fail:
My latest project is a section on my infamous website geared towards providing useful info for people who are looking to start a business, have business that they're taking on the grid, turning a side gig into a full time job or even just starting a side gig and avoiding some pitfalls.
But first, now it's a thing so I need to get this form working!